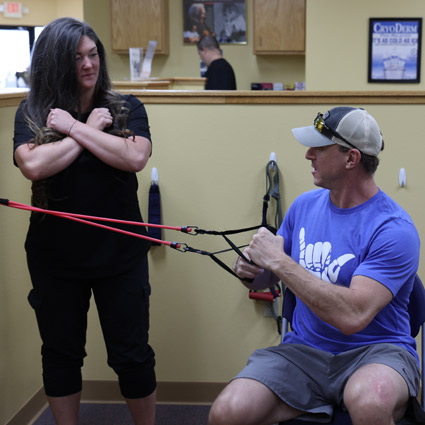 Physiotherapy in Hot Springs
We're committed to providing our patients with the most comprehensive care possible by offering additional services to augment their chiropractic care. One of the most important is our high quality physiotherapy care.
If you're considering visiting our practice for physiotherapy services, you've come to the right place. Our approach to care focuses on your individual needs, ensuring you achieve your optimal wellness goals.
What Is Physiotherapy?
Physiotherapy is a specialized branch of health care that aims to promote, restore, and maintain physical function.
NEW Patients

Unlike chiropractic care, which focuses primarily on the structural portion of the body, physiotherapy targets symptomatic problems in muscles and soft tissues to provide fast relief. Our trained team members use various techniques to address these issues and help you regain optimal function.
How We Help
At Body in Balance Chiropractic, we believe in personalized care plans tailored to each patient's specific needs. We understand that no two individuals are the same, so their plans should also be unique to them. We work closely with you to assess your condition, goals, and lifestyle, ensuring that our approach aligns perfectly with your needs.
Our experienced and compassionate team of cross-trained staff members is dedicated to your well-being. They are skilled in various techniques, including electrical stimulation, traction, and rehabilitative exercises. With their expertise and our state-of-the-art facilities, we provide comprehensive physiotherapy services that address a wide variety of conditions.
With our physiotherapy services, you can expect a range of benefits, including less discomfort, improved mobility, and enhanced overall physical function. By combining our methods and customized care plans, our goal is to bring you lasting relief and improved quality of life.
Insurance Coverage
In most cases, insurance will cover your physiotherapy visits. We never want cost to prevent you from getting the care you need.
Our team is here to guide you through the confusing process, to get you the benefits you're entitled to, ensuring a seamless experience from start to finish.
Schedule Your Session
Ready to try a natural way of healing? Book an appointment with us today and experience the difference our personalized physiotherapy care can make in your life.
CONTACT US
---
Physiotherapy Hot Springs AR | (501) 767-0900